Phuket Weather Radar
The Phuket weather radar (from the Thai Meteorological Department website) - updated every 15 minutes - good for spotting rain and storms in the vicinity of Phuket. The image also shows Phi Phi, Krabi, Koh Lanta, Koh Yao, Khao Lak and the Similan Islands - so a very useful tool for weather spotting in the wider Phuket region.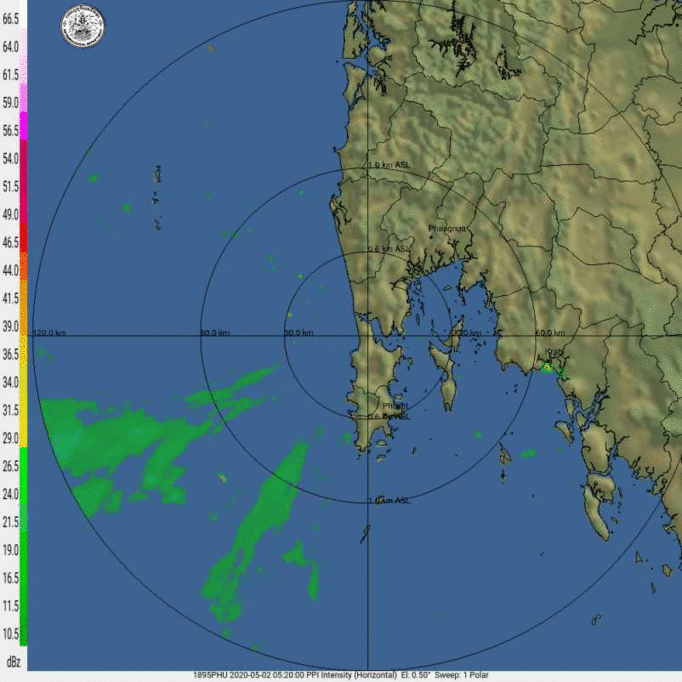 Note that the time shown is UTC (Thai time is UTC + 7 hours)
Original source :
TMD
Latest Phuket weather radar images (open in new window):
•
120km range image
•
240km range image
The loop has a range of 120km. The 240km range static image is useful for spotting weather further out.
TMD also has a
Bangkok Weather Radar
image loop and a
Krabi Weather Radar
image.
Phuket Hotel Information
Hotel Booking at Agoda.com
The Best Phuket Hotels 2018
Phuket Tours
Top 10 Phuket Tours
Phuket Tours with Easy Day Thailand
Phuket Weather Radar | The Phuket Weather Blog
More About Phuket : Jamie's Phuket Blog
Hotel Booking : Agoda.com