Mostly quite nice actually - low season in Phuket
Every now and then after one of the rare prolonged rainy periods I reassess my opinion of low/rainy/monsoon season. Yes if you are unlucky you can have a wet holiday in Phuket at this time of year, but really, truly, on balance, the weather is normally not so bad. It's people on short trips who are more likely to feel unlucky - if you have a weekend trip from Singapore and it rains for 2 days your impression is not favourable. But it might have been lovely on Friday and sunny again on Monday and you'd not know! If you have a longer stay like 2 weeks in the area, you are much more likely to have good weather, but you *will* get some rain too, be sure of that, just don't let it get you down - there is
plenty to do in Phuket on a wet day
!
So, the last full update for the Phuket weather blog was on
July 7th
. For the last 2 weeks the weather has been a typical low season mix, rain, sun, lovely days, not-so-lovely days! A reminder - for regular updates, best to follow me on
Twitter
and
Instagram
. I had a few days from the 8th - 11th July just working and doing little else. Our kids had "mid term" tests which they passed, meaning we had 2 days free at the end of the week on Thursday and Friday - only kids who needed to repeat tests had to go to school on those days :)
8th July (from Twitter) "
Monday morning weather ... there does not seem to be any weather so far today. Just slightly grey, hardly any wind, fairly bright
"
9th July "
Morning Phuket weather report ... quite bright, some cloud, nothing special to report. A nice enough day to do whatever you want :)
"
10th July "
Light rain in the night - 10mm measured, and right now there are dark clouds to the west and sun to the east.
"
11th July morning "
It's a bit grey, and some rain just fell, but anyway .. we're off to Khao Lak for a couple of nights :)
"
What do they say? Fortune favours the brave, or something like that. If you see grey skies and maybe a bit of rain, just go out anyway, you might be lucky. Despite some rain on the morning of the 11th we headed to
Khao Lak
for a little holiday ...
Above - crossing the bridge between Phuket and Phang Nga province where Khao Lak is located. From our house, the drive is not much more than 90 minutes to Khao Lak. Fingers crossed for a couple of sunny days .. and we got it!
Later on the 11th ...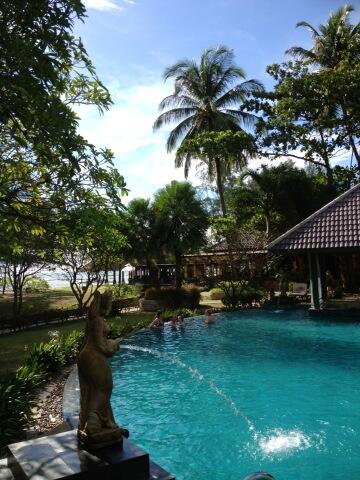 A panorama showing Nangthong beach in the afternoon ...

July 12th we visited
Sri Phang Nga national park
about 1 hour drive from Khao Lak. Good weather again!
(above) Tamnang waterfall at Sri Phang Nga national park
July 13th started the same way - my view from breakfast :
We headed back to Phuket, clouds did start to gather over the hills, but we stopped off at
Ton Prai Waterfall
anyway, even though it looked like rain. A good day to be carrying a dry bag :)
(above) Ton Prai Waterfall south of Khao Lak
Back home on the 13th in the rain, and the forecast on Windguru looked like a wet and windy week ahead.
July 14th "
Good morning from a grey Phuket.
" and then "
The day is getting brighter, but not exactly sunny ...
"
July 15th "
Hot day + aircon broken in the office :(
" - the forecast did not seem to be correct .. but weather changes all the time!
July 16th ... this is the sky over my house in the morning :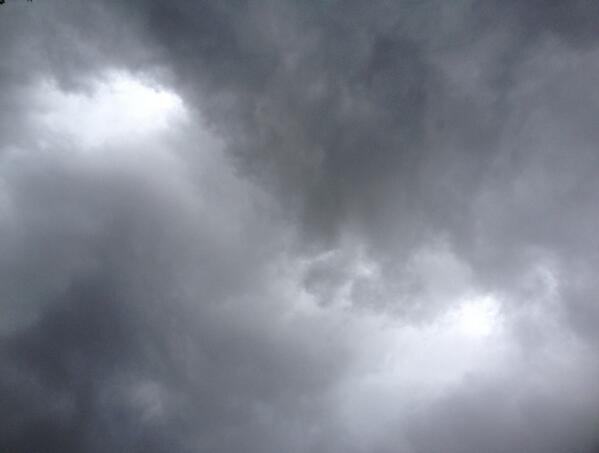 And then the same day, a weather warning was issued, which oddly enough seemed to signal the end of this little wet spell, which was not really that wet anyway. About 48mm of rain from the 10th to the 16th. Not much.
The 17th, I was not working and got some mild sunburn working in the garden at home! So much for weather warnings!
We took a walk in old Phuket Town later - these photos taken on
Thalang Road
...
Actually from the 17th until this evening (22nd) there has been no rain, very nice weather.
BUT, I repeat a warning ... sunny skies do not mean safe seas. The waves can be big at the beaches and if you see big waves, do NOT swim. It can be dangerous, there are rip currents and at some beaches like Karon the water gets deep quickly so you can get pulled out of your depth. Sunshine - nice. Grab a beer and sit by the pool.
On July 20th we were up at the Big Buddha with some of my wife's family. I'd not been up there for quite some time. Still no finished. No stated completion date. Views are still great, but come on! Get the Buddha finished!
This is an arty Instagram photo of the Big Buddha on the 20th :
And below - view from the Big Buddha looking Northeast across the hills and the edge of Phuket Town.
Good weather! Yesterday and today were also hot. Today was nice all day until early evening. I headed home as quick as possible, wanting to visit the start of the Kathu village festival, but around 5pm the blue skies disappeared and dark clouds poured in from the west. It's been a pretty wet evening, and looks like the parade at the start of the festival started early to avoid the rain - I went to Kathu village at 5:30pm (the advertised start time) and the parade had already happened! So we wandered the streets for an hour and if the rain holds off we'll be back tomorrow evening - the festival is on for 3 nights (22nd - 24th).
And the photo below was taken this evening (22nd July) in Kathu village ...
The rain stopped for an hour or so, but as I write this light rain has been falling for a couple of hours and earlier as we had heavier rain and thunder. Tomorrow? Who knows!
Mostly quite nice actually - low season in Phuket | The Phuket Weather Blog
More About Phuket : Jamie's Phuket Blog